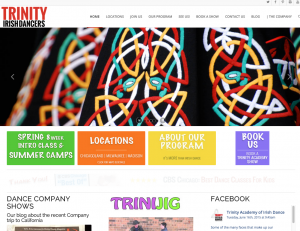 Paul has been building websites since the late 1990s and has created thousands of sites. He is experienced particularly in the use of WordPress.
Web Design
Paul works with a small number of clients to develop a web presence that is built to scale and function that best meets their needs.
Please note that after completion and training, the client takes responsibility for adding site content and for the straightforward regular update procedure. WordPress sites are designed for easy maintenance and, being the world's most popular and best supported website builder, there is huge online help available.
Sites are designed with the client instructions uppermost regarding appearance and function. Please supply a few samples of sites you like to help demonstrate your preferences for look and navigation / layout.
Recent Clients
Trinity Academy of Irish Dance
Trinity Irish Dance Company